White Sands Missile Range (WSMR) is a test range whose primary function is to support missile development and test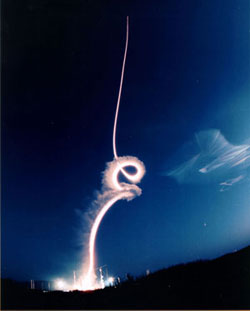 programs for the U.S. Army, Navy, Air Force, NASA, and other government agencies and private industry. Formerly known as White Sands Proving Ground, it is one of the largest military facilities in the United States, covering an area of about 4,000 square miles. White Sands Missile Range is located in the Tularosa Basin of south-central New Mexico, between the Organ Mountains and the Sacramento Mountains.
White Sands was considered as a shuttle launch site in the early 1970's (altitude would have provided payload advantage). This did not come to pass, but Northrup Strip at White Sands was selected as a shuttle alternate landing site. The orbiter Columbia landed there on March 30th, 1982. The strip, renamed the White Sands Space Harbor, is also used as the primary training site for shuttle pilots to practice approaches and mock landings in the shuttle trainer aircraft.
Range services included calibration, communication, meteorological, photographic, television, aerial target support, and laboratory testing facilities covering nuclear environments, weapon systems simulation, guidance and control, propulsion, climatic, microbiological, and metallurgic.
Major range users included:
US Naval Air Warfare Center (NAWC), established in 1946. The LLS-1 USS Desert Ship is used to test naval surface weapon systems. The NAWC also provides sounding rocket support services for NASA, the Air Force Geophysics Laboratory, the Naval Research Laboratory, the Ballistic Missile Defense Organization and commercial customers. Their High Energy Laser Systems Test Facility also tests naval high energy lasers such as MIRACL (Mid Infrared Advanced Chemical Laser) and the SEALITE Beam Director.

The Air Force conducts missile research and development program testing at White Sands. They also use the range for tactical flight training and exercises. The USAF also controls the range's restricted airspace.

The US Army Research Laboratory (ARL) originally provided radar support to the Signal Corps for V-2 tests in 1946. Since 1952 it also studies electronic countermeasures vulnerability of Army missiles and tests foreign missile systems at the site.

The National Aeronautics and Space Administration (NASA) uses White Sands for many test activities. During the Apollo program launch escape systems and the Apollo spacecraft's engines were tested there. Many shuttle components were tested as well.
For more information, please visit the WSMR website.