White Sands Test Facility (WSTF) is located in southwestern New Mexico and has been a part of the NASA Johnson Space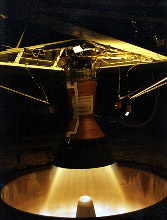 Center since its construction in 1963. WSTF's primary mission is to provide the expertise and infrastructure to test and evaluate spacecraft materials, components, and rocket propulsion systems to enable the safe human exploration and utilization of space.
Beginning with Project Apollo in the early 1960s, WSTF has supported every United States human exploration space flight program. The facility continues to play a key role in the nation's space effort by evaluating materials and components for use in propulsion, power generation, and life-support systems, crew cabin equipment, payloads, and experiments carried aboard the Shuttle Orbiter and the International Space Station.
WSTF operates two laser-leveled lakebed runways at White Sands Space Harbor (WSSH) as an alternate orbiter landing site and coordinates astronaut training in flying the critical approach and landing phase of Shuttle missions. The Shuttle Training Aircraft are specially modified jets that duplicate the controls and flight characteristics of the Shuttle Orbiter.
WSTF provides the following services for government and commercial customers:
Testing Materials and Propulsion Systems
Research and Development
Technical Consultation
Training and Publications
Technical Capabilities
For more information, please visit the WSTF website.