UP Aerospace, Inc. is a leader in low-cost access to space. The company's unique and versatile SpaceLoft rocket provides payload capabilities up to 110 pounds and sub-orbital flights up to 100 miles. On-land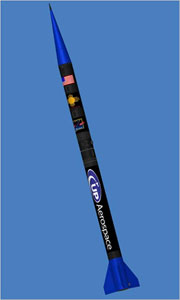 recovery allows quick return of payloads and scientific data.
The company specializes in serving three markets:
Businesses that require economical testing of space-flight hardware
Scientific analysis of the earth and in-space phenomena
Research conducted by the educational sector.
UP Aerospace supports the educational initiatives of NASA & the Air Force, and provides especially affordable space launches through its S.T.A.R. (Space Technology & Academic Research) initiative.
UP Aerospace was the first to launch a rocket from New Mexico's Spaceport America in April 2007. UP Aerospace launched its SpaceLoft rocket on a sub-orbital flight, carrying experimental and commercial payloads for a variety of scholastic and business entities. After traveling into space, the rocket and its payloads landed in the downrange area of the Spaceport.
Since that first launch, UP Aerospace has successfully launched two test flight vehicles for Lockheed Martin who is testing proprietary advanced launch technologies.
For more information, please visit the UP Aerospace website