The Rocket Racing League (RRL) is an aerospace entertainment organization that combines the competition of racing with the excitement of rocketry. The RRL is dedicated to providing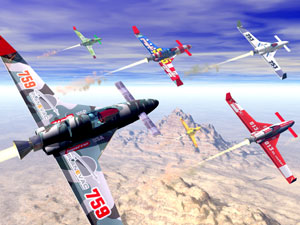 safe and thrilling experiences for families through live events, television broadcasts and interactive technologies. Co-founded by Dr. Peter H. Diamandis, founder of the X Prize, and Mr. Granger Whitelaw, two-time Indianapolis 500 champion team partner, the league's mission is to serve as a technology accelerator in the areas of airframe, propulsion and spacecraft design, and reach for the future to inspire the next generation of spaceflight enthusiasts.
In January 2006, the Rocket Racing League announced with the State of New Mexico that it will bring its world headquarters to New Mexico. RRL will base its headquarters and technology development operations in Las Cruces and plans to have facilities at Spaceport America.
The rockets will race within a three-dimensional track that is one-mile high, two miles long, and a half-mile across. The rocket planes, called X-Racers, will reach speeds of up to 300 mph and will have 30-foot, bright orange flames coming from the rocket engine.
The League will generate revenues through sponsorships, merchandising, broadcast rights, video games, ticket sales, and tours.
For more information, please visit the Rocket Racing League website.