Virgin Galactic of London, England, was formed in 2004 by Sir Richard Branson's Virgin Group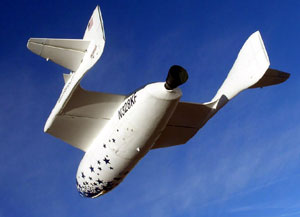 which plans to offer suborbital spaceflights and later orbital spaceflights to the paying public. The firm will own and operate privately built spaceships based on the Scaled Composites' SpaceShipOne. Virgin Galactic plans to fly 500 passengers a year to an altitude of over 100 km with a total weightless time of 7 minutes.
In December 2005, Branson announced that Virgin Galactic would locate its corporate headquarters and mission control operations in New Mexico. Virgin Galactic as agreed to undertake a joint venture with the State of New Mexico to construct Spaceport America, a $225 million facility to be located in Southern New Mexico. The venture was approved by the state legislature and the funding was signed into law by New Mexico Governor Bill Richardson on March 1, 2006. Virgin Galactic anticipates extensively investing in facilities for the passengers including the construction of an upscale lounge, an observation area for families, and training and simulator facilities for astronauts and crews.
During a September 2007 press conference held at the Pan American Center, a team of U.S. and British architects and designers, accompanied by officials from the New Mexico Spaceport Authority (NMSA) and Virgin Galactic unveiled the design renderings of Spaceport America.
The design is from a U.S.-British team, consisting of URS Corporation and Foster + Partners. They created a low-lying, striking design that uses natural earth as a berm, and relies on passive energy for heating and cooling, with photovoltaic panels for electricity and water recycling capabilities. A rolling concrete shell acts as a roof with massive windows opening to a stunning view of the runway and spacecraft. High resolution images of the design are available on the Spaceport America website: www.spaceportamerica.com.
In July, 2008, Virgin Galactic unveiled the new WhiteKnightTwo (WK2) carrier aircraft that will ferry SpaceShipTwo and thousands of private astronauts, science packages and payload on the first stage of the Virgin Galactic sub-orbital space experience. Test flights of WK2 are expected to begin in the fall of 2008 with SpaceShipTwo being carried as a payload for the first time in 2009.
For more information, please visit the Virgin Galactic website.